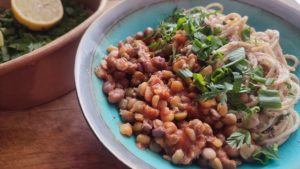 Postworkout meal example – let's make nutrition simple again!
When I was putting together this meal I was not thinking about what foods to choose to hit certain macros.
I mostly eat whole foods, and because of the years of experience I just keep three questions in the back of my mind nowadays:
1) Is there a source of protein?
2) Did I get omega 3s today? And if not, how can I add them to my meal? (Flax seeds most of the time)
3) How to make it tasty? Mustard, seed dressing, spices, and hit sauce are my go-to condiments.
And then nutrition seems to take care of itself.
This bowl has a protein-to-carb ratio 1:4, which makes it a pretty good recovery meal.
Lentils are iron-rich, fiber-rich, and environmentally friendly source of protein. Just add your favorite spices and you have a great meal.
Pasta (white) is a good source of carbs, and together with the seed dressing (flax, sunflower, peanuts, lemon juice, water) it will satisfy anyone who loves creamy pasta. But seed dressing also provides some omega 3s, which cheese or sour cream don't have. And we generally don't get enough omega 3s in our diet.
Finished with some arugula(rocket), that is one of my favorite vegetables. It has a strong peppery flavor, and it is a rich source of nitric oxide, which helps exercise performance.
Instructions
Pasta:
Bring 4 quarts of water to boil in a large pot. Add pasta and 1 tablespoon salt and cook, stirring often, until al dente. Reserve 1½ cups cooking water, then drain the pasta and return it to the pot.
Sauce
Meanwhile, In a bowl, stir together water, seed butter, and lemon juice. Adjust water as needed to achieve a pourable consistency. Add thinly chopped parsley to the sauce. Add 1 cup of the reserved cooking water, the sauce, and pepper to the pasta. Set pot over low heat and cook, stirring and tossing pasta constantly, until ingredients are evenly distributed for about 1 minute. Off heat, add nutritional yeast.
Plating:
Transfer pasta to a platter and serve immediately. Add cooked lentils, mixed with your favourite spices and/or hot sauce, and add arugula.
Notes
Did you know? Arugula is a rich source of nitrates that play an important role in heart health, and sports performance.
Nutritional Information
Per serving

Energy:

435 kcal / 1818 kJ

Fat:

14 g

Protein:

22 g

Carbs:

51 g
Get Free Fit Vegan's Recipe Book