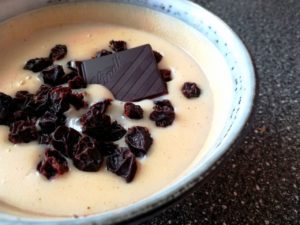 When you are short on time, make this quick 5′ pudding to refuel your body after a hard workout.
Instructions
Start boiling water in a kettle.

In a saucepan mix the dry ingredients. This is when you might want to add cinnamon or other powdered spices if you are using any. Pour in cold milk and mix until the solids are dissolved in the liquid. You don't want lumps.

Pour in hot water while stirring constantly. The pudding should be thickening.

Finish cooking it on the stove for 1-2 minutes. Let it cool down. If you are using unflavored protein, this is when you want to add FlavorDrops sweeteners.
Nutritional Information
Per serving

Energy:

348.4 kcal / 1456 kJ

Fat:

9.6 g

Protein:

27.1 g

Carbs:

36.4 g
Get Free Fit Vegan's Recipe Book