Before writing down this recipe, I had thought it was not even worth it due to its simplicity. But anytime I mentioned it to non-vegans, they reacted in a very positive way. Maybe because they expect that tasty meals must take a very long time to prepare or are very complicated to prepare. Or maybe that the healthy foods mean tasteless and bland, which is quite the opposite!
This low-calorie (n)ice cream is refreshing in hot days but it also provides you with healthy carbohydrates and antioxidants, which you can leverage after a hot workout 😉
I made it the afternoon after my Spartan Race as a treat and to show my family they can enjoy a better version of a popular dessert and they loved it! I actually brain-stormed the idea during the race while I was running in the hills. You have to have your motivation to get to the finish line A.S.A.P.!
Besides its godlike taste, this version of ice cream is super-easy to make, it is a super satisfying, refreshing treat, and on top of all of that, it helps with recovery by providing your body with carbohydrates, vitamins, and antioxidants! it has no sugars added either. None of which the typical ice-cream provides.
Make your calories count!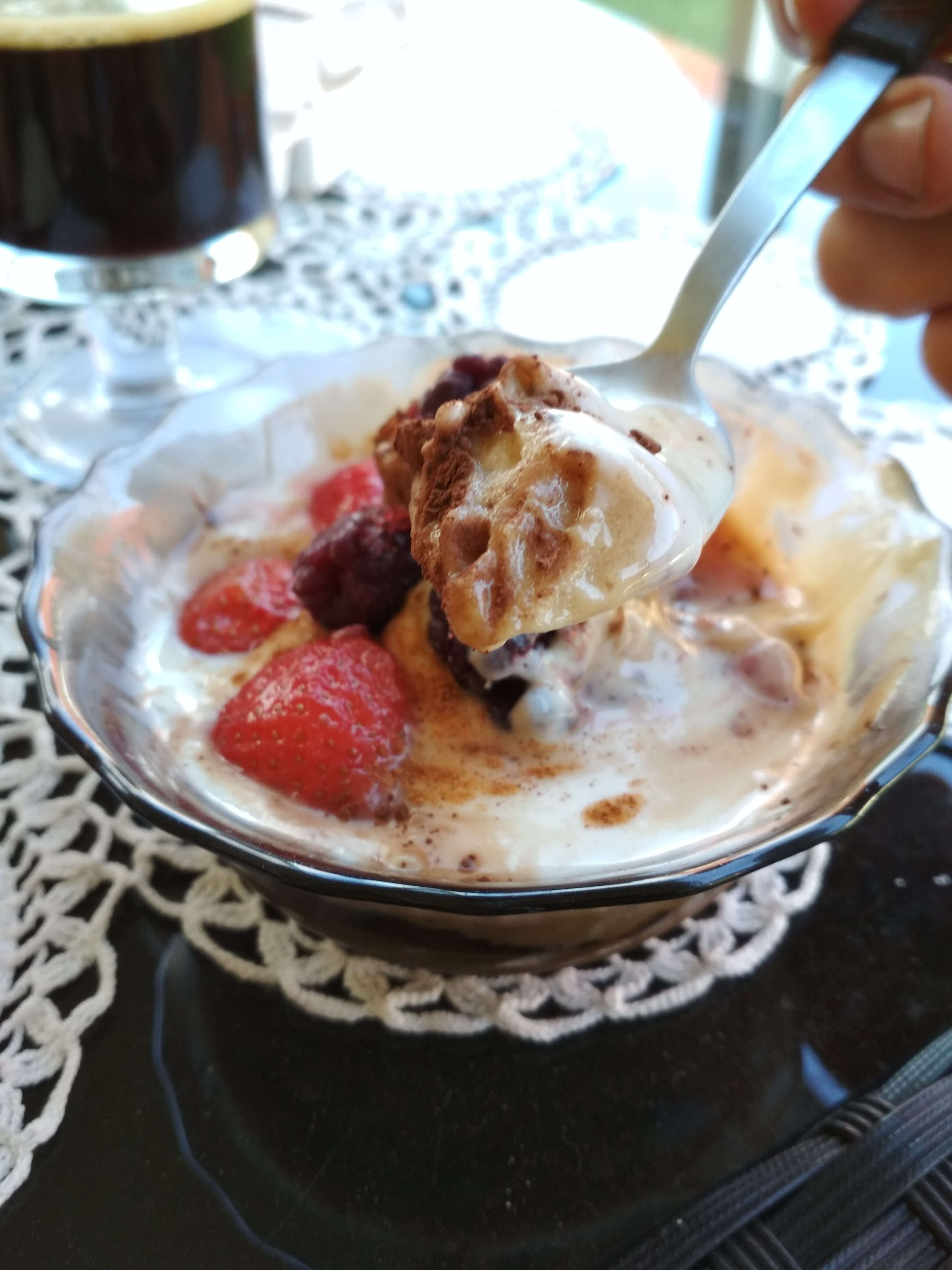 Banana Nice Cream
This ice cream is ideal for hot days or as a treat after a workout.
Carbs: 42g
Fats: 1g
Protein: 5g
100 g Frozen Banana
100 g Fermented Soy Yogurt (or a greek yogurt)
1 tsp Vanilla extract
50 g Blueberries
50 g Strawberries
to taste Cinnamon
Blend the banana in a blender into a smooth consistency – you will love it! (I used a hand blender and it sufficed)

Don't add yogurt or milk at this stage as it would result in less creaminess!

Add vanilla extract

Put into a bowl and pour soy drink over it (or milk or yogurt, preferably fermented, which is beneficial for your gut and digestion!)

Top with your favorite berries and cinnamon.
You can add a scoop of your favourite protein powder to make it a better post-workout dessert.
Calories don't include protein supplement.
Lose fat, build muscle, feel energetic and healthy with actionable information you can apply today!