I wanted to share with you this heavenly, refreshing, nutritarian oatmeal bowl I fixed together this morning.
Besides its heavenly sweet taste, it is rich in vit. C, calcium, OMEGA 3, fiber, and full of slow releasing carbohydrates, which will keep you satisfied for longer.
Oats, poppy and chia seeds, currants, water melon, soy milk, green leafy vegetables of choice (spinach, kale, swiss chard, roman lettuce, beet greens being my favourite).
Nutrition Facts:
Kcal: 680
Carbohydrates: 105g
Proteins: 32g
Fats: 15g
Water Melon Nutritarian Oatmeal Bowl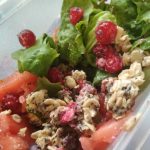 Sweet, nutritious, refreshing, ideal for summer or post-workout
100 g Rolled oats
10 g Chia Seeds
10 g Poppy Seeds
150 ml Soy Milk (Calcium Enriched)
150 g Water Melon
100 g Currants (Red or black)
1 scoop Protein Powder (Optional)
Put everything into a bow and mix.

Pour milk on it and let sit. I found out that 150ml works the best for my preferences. If you wish, add more liquid.

Let sit for at least 20 minutes, ideally overnight in a fridge.
Scale the ingredients to your liking. The amounts listed in the recipe is what I like. If you want less carbs for example, you can increase the amount of chia seeds/nuts and lower the amount of oats.
Get the edge with performance nutrition
Lose fat, build muscle, feel energetic and healthy with actionable information you can apply today!