Nutritious, oil free, filling, simple, delicious.
This porridge brownie has come to life as a variation of my typical morning porridge, except this time I decided to bake it as well.
The result? Everybody who has tried it so far liked it, even people who are used to traditional meals and cakes and even those who dislike oatmeal!
They said it was not sweet but they did not mind. The moist batter took over their heart and to their surprise also made them feel full and satisfied! Perfect for breakfast or as a dessert.
Oat and Apple Brownies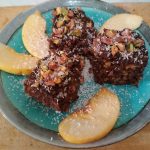 This is a variation of my typical morning oatmeal, however in a form that everybody loves – a cake!
Believe me when I say that even people who don't like oatmeal will fall in love with this simple yet delicious recipe.
100 g Steel-cut oats
2 tsp Cocoa powder
2 tsp Poppy seeds
1/2 tsp Vanilla extract
1 Banana
1/2 tsp Gingerbread spice (contains nutmeg, cinnamon, Star anise, Coriander)
200 ml Soy Milk (or any other milk you prefer)
1 large (~170g) Apple
Optional
30 g Protein powder (optional)
Shredded Coconut (to taste)
2 tsp Hazelnut butter / Spread
Pistachio Nuts (to taste)
Oat brownies
2 tsp Cocoa powder (or to taste)
100 g Soaked Hazelnuts
Combine dry ingredients and soy milk and let the oats soak for at least 20 minutes. I do that overnight.

Make the hazelnut spread or if you have store-bought, add it now together with mashed banana.

Cook on low heat for about 20 minutes or until the oat groats get soft. Preheat the oven at 180-200°C.

Place the dough into a baking tray. I used 25x15cm tray. Layer the cooked oat groats and thinly sliced apples. I made three layers of batter and apples.

Bake in a preheated oven for about 35-40 minutes.

Let it cool down outside the oven. Sprinkle with shredded coconut and pistachio nuts or any other nuts you wish 😉

Ideally, you would prepare it a day ahead so the cake can cool down completely and so it is easy to portion.
Hazelnut Spread
Soak hazelnuts for a few hours or ideally overnight.
Put them into a blender, add cocoa powder and mix, adding water as needed. Alternatively, you could add coconut oil to get a more creamy texture.
Ideally, you would prepare it a day ahead so the cake can cool down completely.
Výživný, bez oleja, sýty, jednoduchý, chutný.
Tento brownie z ovsenej kaše prišiel na svet ako obmena mojej typickej raňajkovej ovsenej kaše. Rozdiel bol v tom, že som tento raz chcel spraviť niečo zapečené.
A výsledok? Každý kto ho skúsil si ho zaťiaľ obľúbil, dokonca aj ľudia, ktorí sú zvyknutý na tradičnejšie koláče a aj tí, ktorí sa slovnému spojeniu "ovsená kaša" vyhýbajú.
Vo všeobecnosti ľudia, čo ho skúsili hovoria, že nie je sladký (samozrejme prisladiť nie je žiadny problém), ale nevadilo im to. Najviac si ich získal základ, ktorý je aj po dopečení šťavnatý a čo prekvapilo najviac bol fakt, že ich brownie zasýtil viac ako čakali.
Perfektný brownie na raňajky alebo ako dezert.
Ovsený brownie s jablkami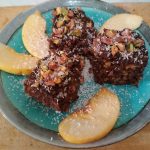 Tu je pre vás recept na tento jednoduchý, no zato vychvalovaný brownie, ktorý zasýti a nemusíte sa po ňom ani cítiť previnilo 🙂
100 g Ovos lámaný (kúpite napr. v Tescu)
2 čl Holandské kakao
2 čl Mletý mak
1/2 čl Vanilkový extrakt
1 Banán
1/2 čl Gingerbread spice contains nutmeg (cinnamon, Star anise, Coriander)
200 ml Sójové mlieko
1 veľké Jablko (cca 170g )
Optional
30 g Proteín neochutený
strúhaný kokos (podľa chuti)
2 čl Lieskovcová nátierka alebo maslo
Pistácie (podľa chuti)
Hazelnut Spread
2 čl Holandské kakao
100 g Lieskovce (namočené)
Inštrukcie
Suché ingrediencie zmiešame spolu so sójovým mliekom a necháme odstáť aspoň 20 minút nech ovos nasiakne. Ja ho nechávam takto cez noc.

Spravte si nátierku z lieskovcov a následne zmiešajte s banánom. Môžete použiť kúpené orechové maslo.

Ovos varíme na miernom plameni cca. 20 minút alebo kým sa z ovsa nestane kaša. Rúru si predhrejeme na 180-200°C.

Do formy navrstvíme ovsenú kašu a jablká. Mne vyšlo na 3 verstvy kaše a jabĺk.

Pečieme cca. 35-40 minút. Vrch by mal byť suchší, zapečený a spodok skôr šťavnatý. Necháme vychladnúť.

Vrch posypeme pistáciami, strúhaným kokosom a prípadne ešte niečím podľa chuti.

Ideálne si tento brownie pripravíme deň vopred, aby mal dostatok času vychladnúť pri izbovej teplote. Prípadne dajte do chladničky, bude sa lepšie porciovať, ja ho však v studených dňoch preferujem teplejší.
Nátierka z lieskovcov
Lieskovce namočíme na niekoľko hodín vo vode.

Vodu zlejeme a v mixéry mixujeme dokým nedosiahneme požadovanú konzistenciu. Ja som pridal ešte 2 čl. kakaa. Ak chcete krémovejšiu konzistenciu, pridajte kokosový olej.