A few days ago I contacted Michael asking how she was doing six months after the end of our cooperation.
Oftentimes we can see that people go on extreme diets and are excited when they achieve results fast. But a few months later there will be a yo-yo effect. This is because their habits and mental conditioning have not changed.
With her permission I want to share how her life has changed since the beginning of our cooperation. I was surprised myself!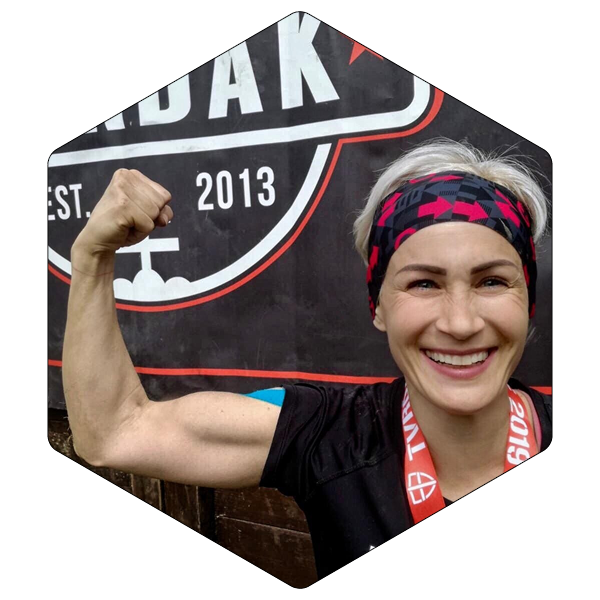 Michaela
Name: Michaela
Age: 43 years
Employment: Civil servant (sedentary job)
Hobbies: Crossfit
Body fat at the beginning: approx. 20%
"Weighing of food is pure stress. Since I stopped practicing it, I've been happy, without stress whether I have a gram of food more or less. Clear head and not stress and being overmotivated is the foundation."
Michaela is an active woman who I worked with in 2019. Her goals were clear: to lose fat, increase strength and performance.
Michaela wanted to find a way of eating that would allow her to get a body she would be happy with. In her case, it also meant six pack abs.
Obstacles:
During our conversations, I found that her goal had been met in the past, but only through strict adherence, calorie counting and regular crossfit training and running. Despite her fondness for crossfit and activities, however, she couldn't maintain her dream body without counting calories and food restrictions, which frustrated her.
During our cooperation, there were mental changes that reflected in her body.
"I exercise so I can eat."
Like many people trying to lose weight, she saw carbohydrates as the enemy. Carbohydrates were often the subject of our conversations.
Fear of a particular food or macronutrient sometimes prevents us from achieving our goals. E.g. Efforts to avoid carbohydrate can be stressful and result in the inability to lose fat. In my work I focus on the mental side. (note Daniel)
"Weighing of food is pure stress. Since I stopped practicing it, I've been happy, without stress whether I have a gram of food more or less.".
Here is our interview 6 months after the end of the cooperation:
D: Do you use any of what you learnt during our cooperation?
M: I eat regularly, I have included vegetables, I do not count calories and I exercise. I'm not stressed about the food content.
D: To sum up, what results did you get out of stress reduction?
M: Abs definition … The upper ones are already showing up
D: Great 🙂 The main thing is that you put knowledge to practice. What was the turning point for you? Because you hadn't done it for a long time …
M: Stop overthinking and don't start restricting food.
D: Just that if you tell a person to stop overthinking or not to start restricting food, you know it doesn't sound very logical. First, you must have believed that eating less and being precise with nutrition is not necessarily the way. What helped you the most? Any information, or did you just decide to try it or was it something else?
M: I thought that if you are the third person to tell me this, I would try it and not be stubborn and do it my way. Everything you said made sense, so why not try it?
Q: So how did your diet and eating habits change? Do you only eat "clean food" or do you have a cake or something like that? Before you mentioned eating more vegetables and eating regularly.
M: I'll treat myself with sweets, I wouldn't be able to do it without them  … When I avoided them I was just nervous. I try to eat four times a day and especially after exercise. You need to eat wisely and not gorge yourself and keep looking at your fitness tracker…
D: Exactly! In the grand scheme, eating mindfully leads to better choices and better body composition.
M: Clear head, and not stress and being overmotivated, is the foundation.