Nutritious, oil free, filling, simple, delicious.
I love lentils! They provide you with a high dose of protein, taste amazing, have a lot of fiber.
I simply love to soak the lentils overnight, put all ingredients into the pot in the morning and come back to lunch after workout to this simple, delicious meal.
TIP: If you don't have an insta-pot, you are wasting a lot of time in the kitchen. Many of my clients don't have time for meal prep and insta-pot is a game-changer for people who want to roll with simple recipes and don't want to spend a day by the stove.
Lentil Chilli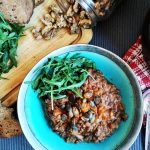 250 g Brown lentils (dried)
250 g Black lentils (dried)
1 big Onion
2 medium Tomatoes
2 cloves Garlic
1 stick Cinnamon
200 g Wild Garlic (when in season)
3 tsp Cocoa powder
2 tsp Mexican spices mix (The main spices are smoked red pepper, cillantro, sweet pepper, ground bay leaf, chilli flakes)
2 jalapeno peppers
300 g Muschrooms (baked)
Pre-soak the lentils over-night or for 12 hours if you are using dried beans.

Change the water before cooking.

Put all ingredients into instant pot and pressure cook for 30 minutes.

Meanwhile, bake mushrooms until they get dry. I used 190°C for 30 minutes with venting.

Mix in the mushrooms after cooking

Best served with a toast (or grains), avocado, sprinkle with lemon juice and cilantro.

Grains complement the amino-acid profile of legumes, making them a complete protein.