I already wrote an article with three different recipes for oats, but I felt like this one deserves it's own space. That is because many people love golden milk, which is a drink made of turmeric (and milk).
Just like its liquid counterpart, the golden oats is a simple mixture of oats, a plant based milk, turmeric, pepper, and ginger.
Over time, I developed the taste for it and now I prepare it this way every morning. It has anti-inflammatory properties, helps with muscle soreness, provides antioxidants, lowers LDL (the bad cholesterol).
Besides that, the oats itself is a perfect source of fiber and sugars with slow release, making them a perfect breakfast to fuel your morning or endurance training!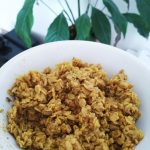 Golden Oatmeal
You know the Golden Milk? Well, this is a solid version of it that I gradually grown to love.

Ingredients
100

g

Rolled Oats

1

tsp

Kurkuma

1

tsp

Ground Ginger

1/4

tsp

Ground Pepper

200

ml

Plant Based Milk of your choice

I use soil milk
Instructions
Put on the stovetop, cover, and let simmer for about 10 minutes

Let it rest, still covered for 5 minutes

Add fruits and/or nuts of your choice



Lose fat, build muscle, feel energetic and healthy with actionable information you can apply today!