I already wrote an article with
three different recipes for oats
, but I felt like this one deserves it's own space. That is because many people love golden milk, which is a drink made of turmeric (and milk).
Just like its liquid counterpart, the golden oats is a simple mixture of oats, a plant based milk, turmeric, pepper, and ginger.
Over time, I developed the taste for it and now I prepare it this way every morning. It has anti-inflammatory properties, helps with muscle soreness, provides antioxidants, lowers LDL (the bad cholesterol).
Besides that, the oats itself is a perfect source of fiber and sugars with slow release, making them a perfect breakfast to fuel your morning or endurance training!
Golden Oatmeal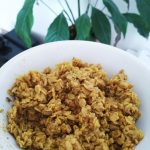 You know the Golden Milk? Well, this is a solid version of it that I gradually grown to love.
100 g Rolled Oats
1 tsp Kurkuma
1 tsp Ground Ginger
1/4 tsp Ground Pepper
200 ml Plant Based Milk of your choice (I use soil milk)
Mix all the ingredients

Put on the stovetop, cover, and let simmer for about 10 minutes

Let it rest, still covered for 5 minutes

Add fruits and/or nuts of your choice