No oil, no dairy, no honey, just the rich taste of chocolate!
I got this recipe from a woman at my client's place a few months ago. However, the recipe included eggs, butter, honey and so I decided to make it vegan!
I mean what do you need butter for when you have an avocado, right?
Nutrition Facts:
Carbohydrates: 23g
Proteins: 6g
Fats: 13g
Millet Chocolate Brownie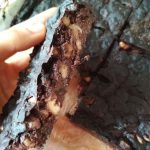 Do you love chocolate? Do you love coffee? This one is an ideal companion for your cup of coffee with full chocolate creaminess, without oil, added sugars, and if you add some fresh fruit on top of it, it can be even very refreshing.
100 g Chocolate (Depends on your taste and preferences, I used Tesco Madagascar 71% chocolate)
45 g Cocoa (Powder or buttons)
60 g Dried dates (Soak in water)
150 g Millet (Cook until soft (10-15min.))
1/2 tsp Chilli powder (Optional)
60 g Avocado
100 g Walnuts
Cook proso Millet in salted water until cooked and let it cool down. Use approx. 1:2.5 proso to water ratio

Melt chocolate in a water bath.

In a food processor, blend dates until smooth

Add the cocoa, avocado, melted chocolate, the Millet and mix until smooth.

Spread 1/2 to 2/3 of the batter on a baking paper. I used approx. 20x20cm baking tray.

Top with walnuts and spread the rest of the batter on top.

Bake for 30min. On 200degrees or until the brownie develops a crunchy texture on top. You don't want it to be completely dry. The bottom will be still moist, which is perfect.

Let it cool down. Then top with fruits of your choice if you want to.

Congratulations! You have made a chocolate brownie without eating it in the process.
Discussion
You can improve this recipe or make it suit your goals by including more nuts, putting protein powder inside, or sprinkle fruit on top or mix it in chocolate batter.
Combinations that work well with dark or 100% chocolate: berries (especially blueberries, blackberries, strawberries, black currants), chilli, nuts.
Get The Edge With Tips on Mindsets, Nutrition, and Productivity