Nutritious, oil free, filling, simple, delicious.
This is a typical cabbage soup we make here in Slovakia during holiday season. Traditionally, it has is made of cabbage, mushrooms and potatoes. Then, depending on the local customs, sour cream, smoked meat or sausage is added.
It is like a traditional pizza in a sense that it is very simple, uses few ingredients, but that is why it is very important to get it right.
This is the first year I tried to veganize it and it was a miss on Christmas Eve but a hit when I refined the recipe and made it second time on Silvester.
As you can see, the recipe is very basic, but without added salt or oil, you can enjoy a delicious plate of soup that will warm your body, stomach and heart.
Christmas Cabbage Soup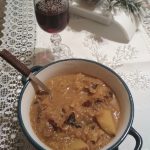 1 kg Sauerkraut (This is the most important ingredient. If it is too sour, no matter what you do, the final result will be sour. Home-made sourkraut is the best option for taste and your gut.)
6 Dried dates or plums
2 dl Soy milk unsweetened ((0.8 cups))
50 g Dried mushrooms – cep/porcini (summer cep is a local mushroom that has with an intense aroma and a specific "wooden taste" )
1 big Potato
2 tsp Smoked paprika
180 g Smoked Tempeh
1 big Onion
3 cloves Garlic
3-6 Bay leaf
1 tsp Whole black pepper
1 handful Bread or flour (dry or fresh)
Cut onion and potato and clean garlic cloves and saute them over a light heat until onions get golden colour.

In the meantime, soak bread in the soy milk.

Add cabbage, water, potato cut to pieces. The amount of water depends on how liquid you want your soup to be. I use about 3-4l of water and refill as it evaporates.

Boil over medium heat for about 30-40 minutes until cabbage, mushrooms and potato gets soft.

Add soaked bread to the soup and stir well. It will thicken the soup. Boil for another ~20 minutes
Tempeh preparation
Spread about 1cm (0.4 inches) thick pieces of smoked tempeh on a baking sheet and roast at 180°C (360 F)

Few minutes before serving, add roasted smoked tempeh.
If you don't have access to smoked tempeh, you can use liquid smoke on it or cover it in smoked pepper. In the case of pepper I would advise to use less in the soup.
The soup is the best the next day 😉